Mount Holyoke's core mission has remained steadfast since the College's founding in 1837: to offer students from all backgrounds an unparalleled opportunity to learn and shape their own futures. The exceptional diversity of experiences that students bring — to the classroom, the campus and the alum network — ensures that our graduates enter the world as global citizens. By directing your gift to one of our five scholarship aid destinations, you are investing in remarkable students from all socioeconomic backgrounds.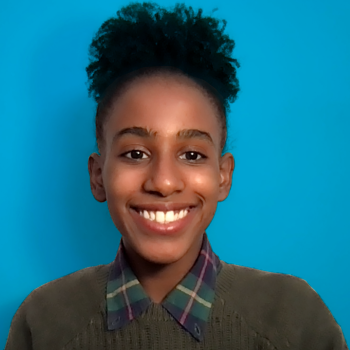 "I chose Mount Holyoke for the community. I was specifically looking for a historically women's college where my ideas and identity would be valued and respected. Scholarship aid impacted my Mount Holyoke experience by allowing me to focus more on my studies and extracurriculars, instead of worrying so much about the monetary aspect of college.
I value the important and difficult conversations that are often brought up in our community. Everywhere I go, I find a Mount Holyoke alum or someone connected to a Mount Holyoke alum — this is a great resource for the future."
Ways to support scholarship aid:
General Scholarship Aid
Each year, more than 70% of Mount Holyoke students receive need-based aid, totaling nearly $50 million. Gifts to the general scholarship aid destination will go to providing access to the dynamic, rigorous Mount Holyoke education to students from all backgrounds.
First-generation Student Scholarship Aid
First-generation students — those who are the first in their families to attend college and did or do not have parents, guardians or family systems to assist them in navigating the college process — face unique challenges throughout their time at Mount Holyoke. Gifts to this destination will provide scholarship aid specifically for first-generation students.
Frances Perkins Scholarship Aid
Each year approximately 90 diverse and intellectually curious Frances Perkins scholars (FPs) are enrolled at Mount Holyoke. These students of nontraditional age who have not yet earned an undergraduate degree have followed an unconventional path to MHC, but have varied lived experiences that create an unparalleled opportunity for our entire community to learn, grow and evolve. Gifts to this destination will provide scholarship aid specifically for Frances Perkins scholars.
International Student Scholarship Aid
Each year, over 25% of the student body (400+ students) is made up of international students from over 70 countries. The undergraduate experience for these students is complicated by being farther away from their homes and support systems than most domestic students and having extra hurdles to navigate such as visas and other regulations. Gifts to this destination will provide scholarship aid specifically for international students.
Mount Holyoke Fund Scholars Program
The Mount Holyoke Fund Scholars Program is a unique opportunity for leadership donors to directly impact the life of a talented student. Gifts of $10,000 or more can be used to establish a one-year named scholarship through The Mount Holyoke Fund Scholars Program. Mount Holyoke Fund Scholar donors will receive a report from their scholar during the academic year with details about their studies and activities.