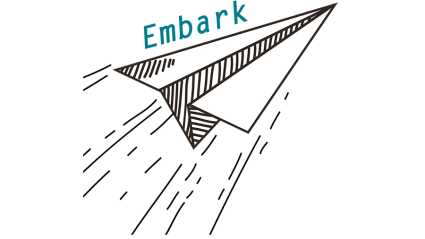 Embark is a student engagement tool implemented by the Office of Student Involvement that is meant to complement each student's out-of-the-classroom journey while at Mount Holyoke. It creates a centralized, online space to support you in your co-curricular journey at Mount Holyoke, allowing you to easily access tools for managing your involvement and for connecting to other students - from events and programs to student group interaction and management to co-curricular tracking and more.
Update Your Profile
Click on the round Account button on the top right corner of your homepage to edit your profile and privacy settings, upload your profile photo, and more.
Join a Group
To view and join groups, click on the Groups drop-down on the top of the page, or visit the Groups page.
You can click on any group to be taken to their group page to learn more about them, or you can select a group by clicking on their box in the left-hand Join column, then clicking "Join" at the bottom of the page.
Group Officer Toolkit
Officers have access to group management tools, and are responsible for the upkeep and maintenance of their groups' pages. This guide will introduce you to some of the major tools you will need to do this successfully. For more help, you can also visit the Embark Resources page or the get started user guide.
Access Your Officer Tools
After logging into Embark, your groups will appear as clickable tiles on the homepage. To access a list of your groups from anywhere in Embark, use the "Groups" dropdown menu.
If you are an officer of a group, you will find an officer toolbar down the left side of your screen. From here, you can access your various officer tools.
Appoint New Officers
To add an officer, go to your group's Dashboard tab on your officer toolbar (on the left side of your screen) and then select Officers. Once you've clicked on Officers, click the "Add Officer" button on the top right.
Manage Your Officers
To edit an officer, go to your group's Dashboard tab on your officer toolbar (on the left side of your screen) and then select Officers. You can click on the "Permissions" button to customize each officer's individual role and their ability to manage certain items on your group's Embark page, and you can edit titles directly on the Officers page.
Alternatively, you can update officer statuses under the Members tab by selecting All Members. From there, you can toggle officer statuses using the checkboxes next to each member of your roster.
Please note: You can have your officers show up automatically on your group's website, in which case their "Role" and "Bio" will be displayed, so make sure you fill those out!
Manage Your Members
The Members tab holds all of your member management tools. Unless you change your group settings to closed membership (Dashboard-> Settings->Close membership->Yes), anyone can sign up to join your group. However, you will need to validate any new members by checking their Validate checkbox (Members->All Members); otherwise, they will not have access to your group.
Create Events
Under your Events tab, you will be able to select Create Event in order to set up events. When creating the event, you will also have options to create multiple tickets, time slots, and a waiting list.
By clicking on any individual event, you will be able to view your list of registrants and attendees.
Communicate with Your Members
Head to the Emails tab to communicate with your group members. You can set up mailing lists and email templates for your convenience, as well as track the delivery of your messages.
Additionally, your group will have an open discussion forum known as your "feed" as your main group page. To access the Feed as an officer, click on Group Page under Dashboard in your officer toolbar.
Create a Survey or Form
Create surveys and forms under the Surveys & Forms tab. While surveys and forms have the same functionalities, forms are more compact in appearance than surveys. Also under this tab, you can set up elections for your group's officers or polls for quickly gathering information from your members.
Manage Your Website
Administer, edit, and customize your group's website under the Website tab. You can also create blogs and discussion boards.
Keep Track of Your Group's Budgeting
The Money tab will be available in Fall 2020 and will allow you to track your group's budgeting and track your transactions (whether from ticket sales, dues paid by members, or refunds).
Share and Store Files
Under the Files tab, you will be able to store files and photos. You can change the access rights to folders so that some folders are only available to officers, while any member can access other folders.
Change Your Group's Settings
Under Dashboard->Settings, you will be able to manage many of your group's administrative settings. If anything you wish to change is locked, such as changing your group name or category, you can contact Embark Support.
Frequently Asked Questions
What is Embark used for?
Embark is a student engagement tool utilized by the Division of Student Life, and supported by LITS and other campus partners. Embark can be used to help MHC recognized student groups and departments promote on-campus events and programs, communicate with members of their group, track attendance, collect information through forms, and much more. In addition, Embark provides a platform for students to:
Search for student groups and events
Promote events
Keep track of events and sync them to their calendar
Easily check-in at events
Share updates and photos
Check the latest news from their group or organization
Connect with classmates
Register for events
Purchase tickets for events
And much more!
Who can use Embark?
Any current MHC student, staff or faculty member can use Embark.
Can I use Embark if I am not in a student org?
Yes! If you are not in a group, you can join one, or you can learn about events happening on campus, and connect with your friends and community!
How do I request a new group page?
Students
Creating a new student org/group will follow our regular process for forming an organization. Organizations that go through the process and are approved will be able to create a group within Embark.
Departments and Programs
Please contact the Office of Student Involvement.
Who do I contact for help with Embark?
For simple tech support (i.e. log-in problems)
Contact the Help Desk by email or phone.
For all other Embark support questions
Please see the FAQ page on the Embark platform for other questions.