The Parking Office is responsible for managing parking resources and maintaining safe access for emergency vehicles and campus deliveries at Mount Holyoke College.
We welcome you to Mount Holyoke College. Please utilize our resources or call or visit the Parking Office (413-538-2514) for more information. We suggest that if you are visiting the campus, give us a call and we will assist you in locating parking while you are on campus.
All vehicles parked on the campus must be registered with the parking office. Please call us at (413) 538-2514 so we may assist you with your needs.
Parking Office Updates
Email the parking office for more information. For Guest Parking, please fill out our form.
Register your vehicles on my.mtholyoke. Sign in to my.mtholyoke, other Administrative functions, Register for a parking decal. Write down the State, License plate number and make and model of the vehicles you wish to register. Click on submit, fill out the form that comes up, click on submit, submit again and then OK. You will be brought back to the main screen of my.mtholyoke and can enter a second vehicle, once the decal is processed you will get an email to let you know the decal has been processed and it will be sent to you in an interoffice envelope.
Temporary Leave Parking
All vehicles must be actively registered and insured with your home state. Expired vehicles may be towed at your expense. All vehicles must be registered for the next academic year by August 24, 2022 or they will be removed.
Break Parking
If you will be leaving your registered vehicle on campus during the December recess and/or January Term, please park ONLY in the student space in Gorse Parking Lot. If you have any question, please call the parking office at (413) 538-2514.
Winter Parking Ban
When the winter parking ban is in effect, vehicles may not park in roadway spaces between 2 am and 5 am. If you need information on where to park overnight, please call the parking office at (413) 538-2514 and we will be happy to assist you in locating alternate parking.
Other Parking Bans: If the college receives significant snow and needs to remove snow from parking lots, notice will be provided to the community for those occasions.
Please follow the links to the rules and regulations for more information.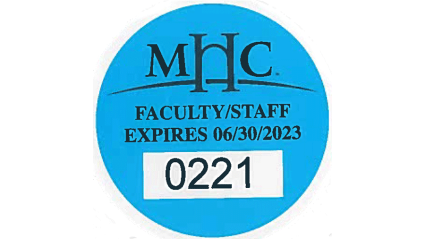 Please apply for your new decal on my.mtholyoke.edu; administrative functions, apply for a parking decal; or stop in to the parking office located inside the Public Service and Safety station open Monday – Friday, 8 am – 4 pm.
Students, faculty, and staff may register their vehicles online at
my.mtholyoke
.
Where to Park:
Mount Holyoke Students: in marked Student spaces 24 hours/day 365 days/year
Faculty/Staff: in marked Faculty/Staff spaces 24 hours/day 365 days/year

Employees in need of temporary handicap parking need to submit a doctors note to Lateisha Rainey in Human resources who will provide the necessary documentation to the parking office. The parking office will send an email when the request is approved and arrange for delivery or pick-up of the hang tag.

Five College Students: In the Equestrian Center with decal issued by the Parking Office
Visitors:

Monday – Friday, 5 pm – 7 am: park in faculty/staff spaces except during the winter (contact the Parking Office if you are staying overnight to avoid towing).
Saturday & Sunday: park in faculty/staff spaces except during the winter (contact the Parking Office if you are staying overnight to avoid towing).
Monday – Friday, 7 am – 5 pm: obtain a parking pass from the department you are visiting; if you are visiting a student you may park in Gorse or the Equestrian Center if your host obtains a parking permit for you.
No Parking Areas
in handicap spaces unless you have a Mount Holyoke or state issued placard or plate (all handicap spaces are TOW zones)
in any marked tow zone, no parking zone, or any unmarked spaces
behind the Blanchard Campus Center; between the Blanchard loading dock and Ciruti
in roadway spaces on the core of campus between 2 am and 5 am
Full Parking Rules and Regulations
View the current parking Parking Rules and Regulations online.