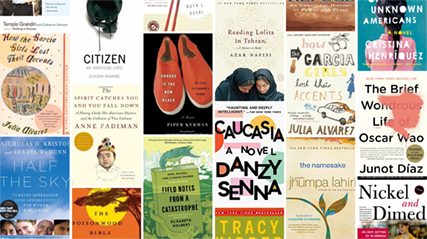 The annual Common Read is designed to give students new to Mount Holyoke College their first intellectual dialogue based on a shared text. These students start to explore the selected text during Orientation and continue the discussion into their fall classes and throughout the year.
Open to the entire College community to read and discuss — staff on campus and alumnae groups across the country discuss the book, for instance — the Common Read sets the tone for the community. It helps collectively frame discussions for the upcoming academic year.
Current and prospective students, faculty, staff, alumnae and trustees are invited to participate.
Common Reads
2021

Jesmyn Ward

2020

The New York Times Magazine

2019

Tommy Orange

2018

Cristina Henriquez

2017

Claudia Rankine

2016

Ta-Nehisi Coates

2015

Chimamanda Ngozi Adichie

2014

Piper Kerman

"Orange is the New Black"

2013

Junot Díaz

"The Brief Wondrous Life of Oscar Wao"

2012

Jhumpa Lahiri

"The Namesake"

2011

Nicholas D. Kristof and Sheryl WuDunn

"Half the Sky: Turning Oppression into Opportunity for Women Worldwide"

2010

Please see list of readings below.

2009

Anne Fadiman

"The Spirit Catches You and You Fall Down: A Hmong Child, Her American Doctors, and the Collision of Two Cultures"

2008

Danzy Senna

"Causasia"

2007

Elizabeth Kolbert

"Field Notes from a Catastrophe: Man, Nature, and Climate Change"

2006

Tracy Kidder

"Mountains Beyond Mountains"

2005

Ruth L. Ozeki

"My Year of Meats"

2004

Azar Nafisi

2003

Barbara Kingsolver

"The Poisonwood Bible"

2002

Barbara Ehrenreich

"Nickel and Dimed: On (Not) Getting By in America"

2001

Julia Alvarez

"How the Garcia Girls Lost Their Accents"

2000

Terry Tempest Williams

"Refuge: An Unnatural History of Family and Place"